« Je suis fatiguée d'être traitée comme un objet sexuel. »
«
Mercredi dernier, j'avais un rendez-vous amoureux avec Chris.
» C'est avec ces mots que Melania Geymonat, une hôtesse de l'air de 28 ans originaire d'Uruguay raconte sa nuit du 29 au 30 mai dernier. Si cette soirée semble bien débuter, elle vire rapidement au cauchemar pour les deux jeunes femmes. Melania et sa petite amie américaine, Chris ont été victimes d'une agression en raison de leur orientation sexuelle.
Dans le post Facebook publié mercredi 5 juin par Melania, l'on peut voir les deux jeunes filles assises dans le bus, le visage en sang.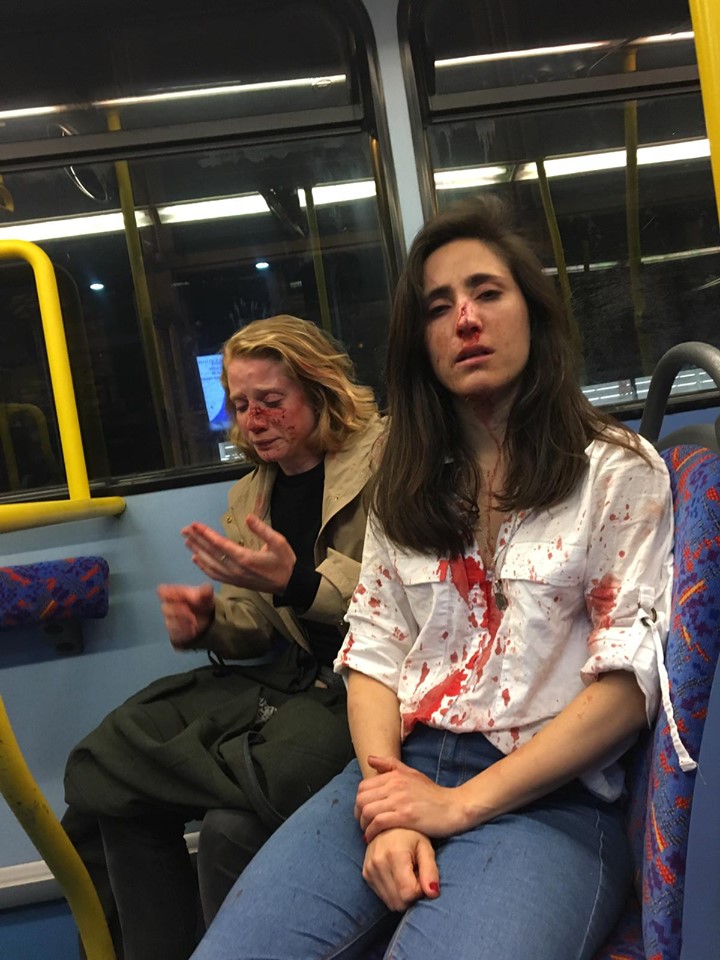 Le post Facebook :
English & Español, against CHAUVINIST, MISOGYNISTIC AND HOMOPHOBIC VIOLENCE / En contra del MACHISMO, MISOGINIA Y HOMOFOBIA.
--
Last Wednesday, I had a date with Chris. We got on the Night Bus, heading for her place in Camden Town, climbed upstairs and took the front seats. We must have kissed or something because these guys came after us. I don't remember if they were already there or if they got on after us. There were at least four of them. They started behaving like hooligans, demanding that we kissed so they could enjoy watching, calling us 'lesbians' and describing sexual positions. I don't remember the whole episode, but the word "scissors" stuck in my mind. It was only them and us there. In an attempt to calm things down, I started making jokes. I thought this might make them go away. Chris even pretended she was sick, but they kept on harassing us, throwing us coins and becoming more enthusiastic about it. The next thing I know is that Chris is in the middle of the bus fighting with them. On an impulse, I went over there only to find her face bleeding and three of them beating her up. The next thing I know is I'm being punched. I got dizzy at the sight of my blood and fell back. I don't remember whether or not I lost consciousness. Suddenly the bus had stopped, the police were there and I was bleeding all over. Our stuff was stolen as well. I don't know yet if my nose is broken, and I haven't been able to go back to work, but what upsets me the most is that VIOLENCE HAS BECOME A COMMON THING, that sometimes it's necessary to see a woman bleeding after having been punched to feel some kind of impact. I'm tired of being taken as a SEXUAL OBJECT, of finding out that these situations are usual, of gay friends who were beaten up JUST BECAUSE. We have to endure verbal harassment AND CHAUVINIST, MISOGYNISTIC AND HOMOPHOBIC VIOLENCE because when you stand up for yourself shit like this happens. By the way, I am thankful to all the women and men in my life that understand that HAVING BALLS MEANS SOMETHING COMPLETELY DIFFERENT. I just hope that in June, Pride Month, stuff like this can be spoken out loudly so they STOP HAPPENING!
---
El miércoles pasado tenía una cita con Chris. Subimos al Night bus en el piso de arriba, el asiento de adelante, de camino a su casa en Camden Town. Hay momentos que no recuerdo, si fue el shock o quedé inconciente no lo sé precisar. En ese momento debimos besarnos o abrazarnos, ya que los hombres que allí habían o subieron después de nosotras (no lo sé) nos siguieron y se ubicaron cual tribuna pidiendo que nos besáramos para su deleite, diciéndonos lesbianas, aludiendo a poses sexuales y demás cosas que no recuerdo, haciendo gestos con sus manos mientras se divertían diciéndonos "scissors" . Como si fuéramos un espectáculo y ellos la tribuna a entretener. Eran al menos 4 hombres. En el piso de arriba eran sólo ellos y nosotras. Yo en un intento de alivianar la atmósfera empecé a hacer "chistes" . Realmente pensé que podía mediar la situación que pasaría como uno de los desagradables momentos QUE USUALMENTE debemos soportar como MUJERES Y COMO HOMOSEXUALES, y que se calmarían. Chris se hizo la enferma para que nos dejaran de hablar. Pero ellos siguieron acosándonos. Nos tiraban monedas, cada vez más entusiasmados. Lo siguiente que sé es que en la mitad del bus está Chris peleando con 3 de ellos e inmediatamente me dirijo hacia allí. La veo llena de sangre y de alguna manera entiendo la gravedad y comienzo a intentar sacarla del medio: lo siguiente que sé es que me parten la nariz y sólo veo mi sangre. No sé si perdí el conocimiento. Lo siguiente que recuerdo fue llenar de sangre el bus que ya estaba parado con la policía tomándonos declaración. Ya que estaban, nos robaron también. Aún no sé si tengo la nariz quebrada y no he podido volver al trabajo, pero lo que más me indigna es QUE LA VIOLENCIA SEA USUAL, que sea necesario llegar a la SANGRE y a un relato de 4 pibes cagando a trompadas a dos mujeres para que esta imagen tenga una clase de impacto, enterarme a diario de situaciones similares, por ser mujer ser tomada como objeto sexual, saber de amigos gays que fueron molidos a palos PORQUESÍ, que haya que soportar los "PIROPOS" y la VIOLENCIA MACHISTA, MISÓGINA y HOMÓFOBA porque cuando te defendés cosas así pasan. De paso doy gracias a los hombres y mujeres de mi vida que entienden QUE TENER HUEVOS SIGNIFICA OTRA COSA. En Junio, el mes de la diversidad, sólo espero que estas cosas se puedan hablar y dejen de estar en los baúles y escondidas para generar un poco de conciencia y procurar que estas mierdas NO SIGAN PASANDO!
L'article